Visit this video page to see User Permissions in action.
Who is this for? #
A District Administrator or Director who needs to manage permissions for directors and parents in their district.
Prerequisites #
Your Presto Assistant organization should be connected to your free Presto Assistant district.

No district yet? This article explains how to set up a Presto Assistant district.
If you are a director without a Fine Arts Administrator that needs to create your own district, please contact Presto Support — we have a quick guide to share with you.
Only the following people can manage permissions for directors and parents in the district:
District Administrators
District Assistants
Directors who are granted permisision to manage the permissions for other users
District Administrator View #
Press the Director Permissions item in the left navigation menu.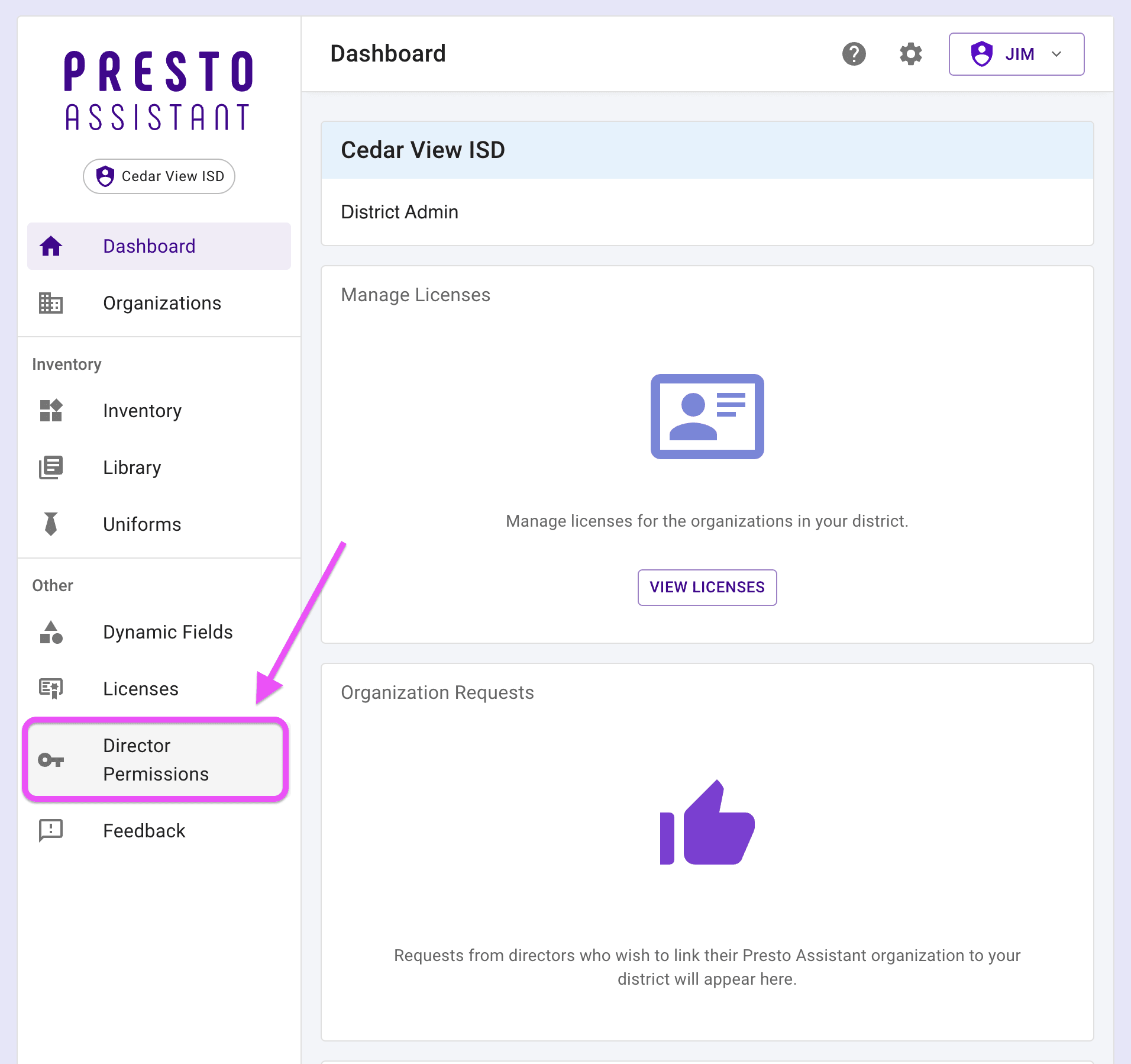 Press the Edit icon on the upper left to enter edit mode. Just like a spreadsheet, click into a table cell to change a single value. Press the Done Editing button when you are finished.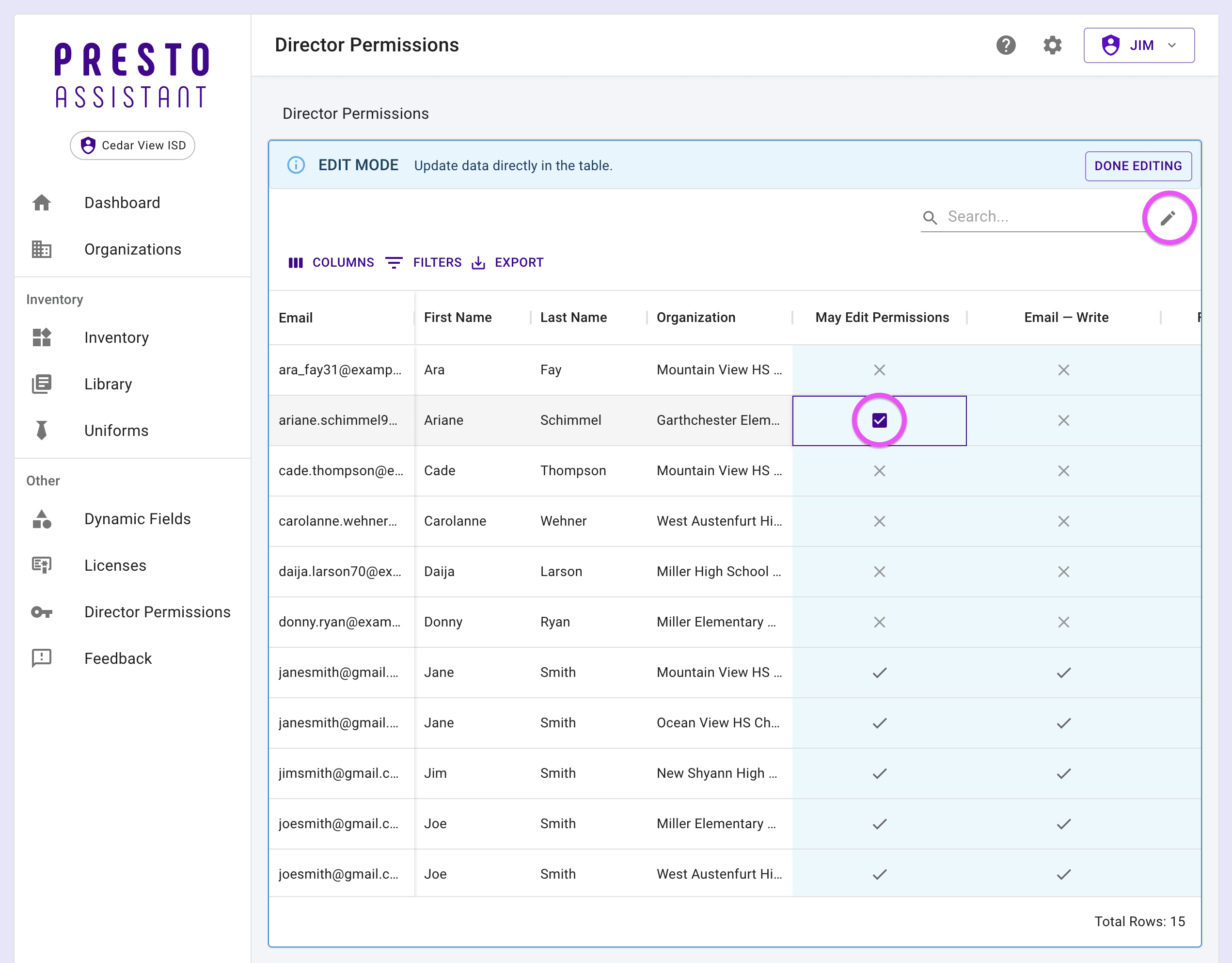 Director View #
A Director can only assign permissions that they have assigned to themselves. For example, a director who cannot delete inventory cannot assign the "delete inventory" permission to other people.
From a director or parent details page, scroll down and press the Edit icon on the "Permissions" card.
While editing permissions, you'll see a series of checkboxes related to each area. Choose the permission you want to assign, keeping in mind that you can only grant permissions that you have.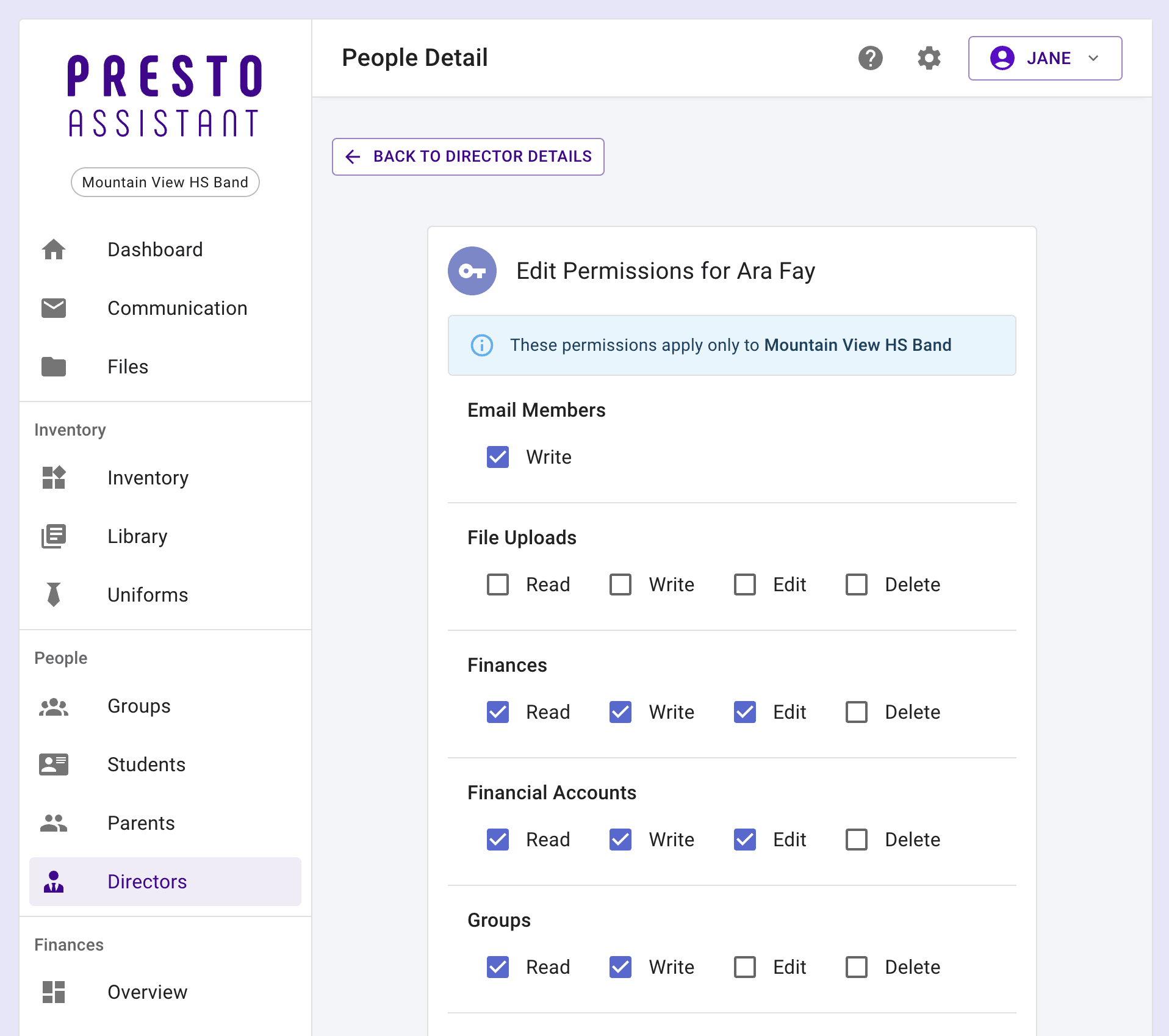 Some areas like Inventory have micro-permissions to enable or disable editing specific sections.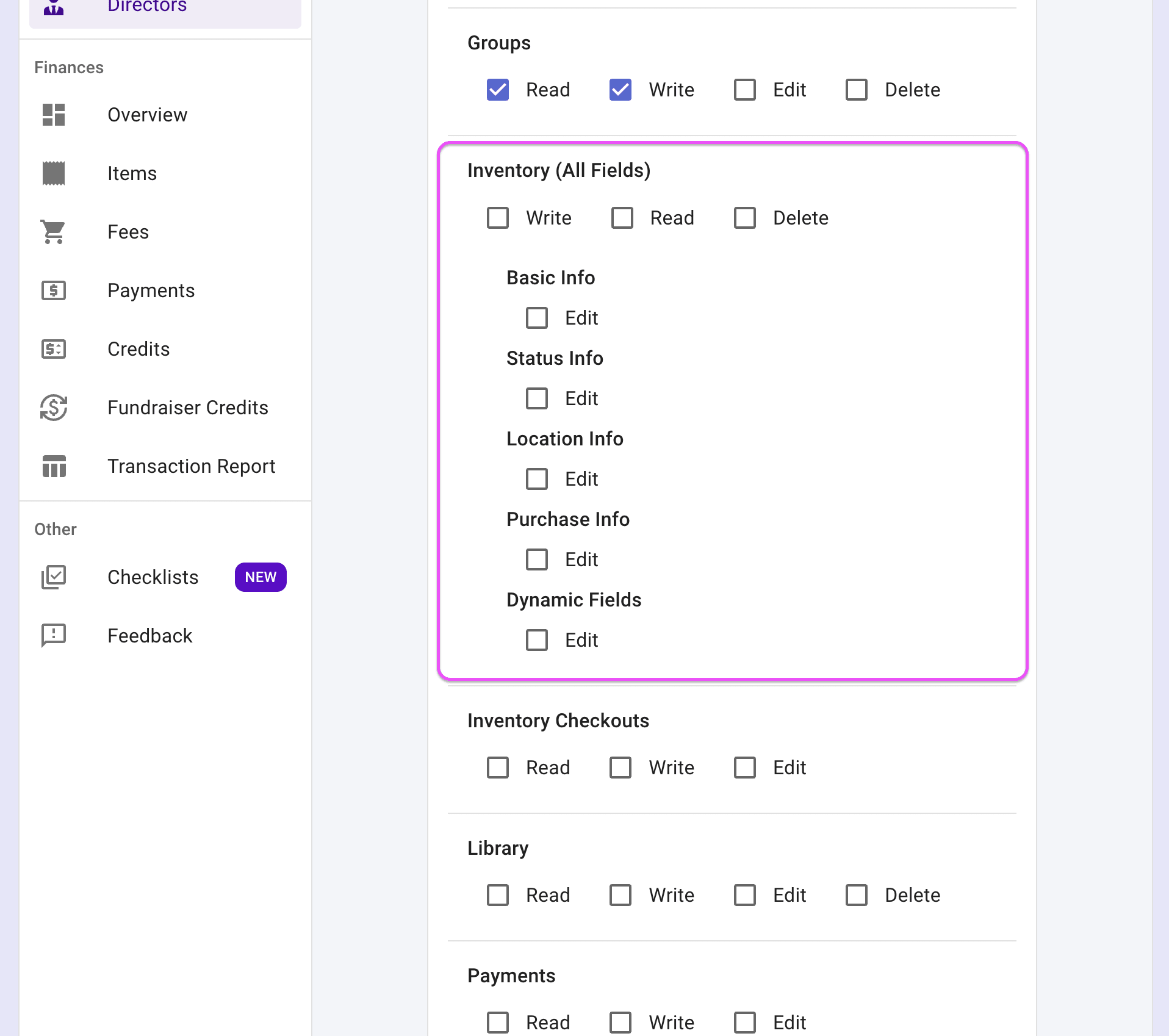 Press the Save button near the bottom when you are finished.
When any permissions are added, the details page will show which permissions a person has been granted.
Editing Permission Comes from the District Administrator #
If you don't see the Edit icon on the "Permissions" card, then you don't have the ability to edit the permissions for other users. Your District Administrator can grant you this permission.
What a Parent Will See #
Parents normally have a limited view of data in Presto Assistant. They will be able to see data for themselves and their own students. Adding permissions for a parent will expand their view, depending on the permission granted.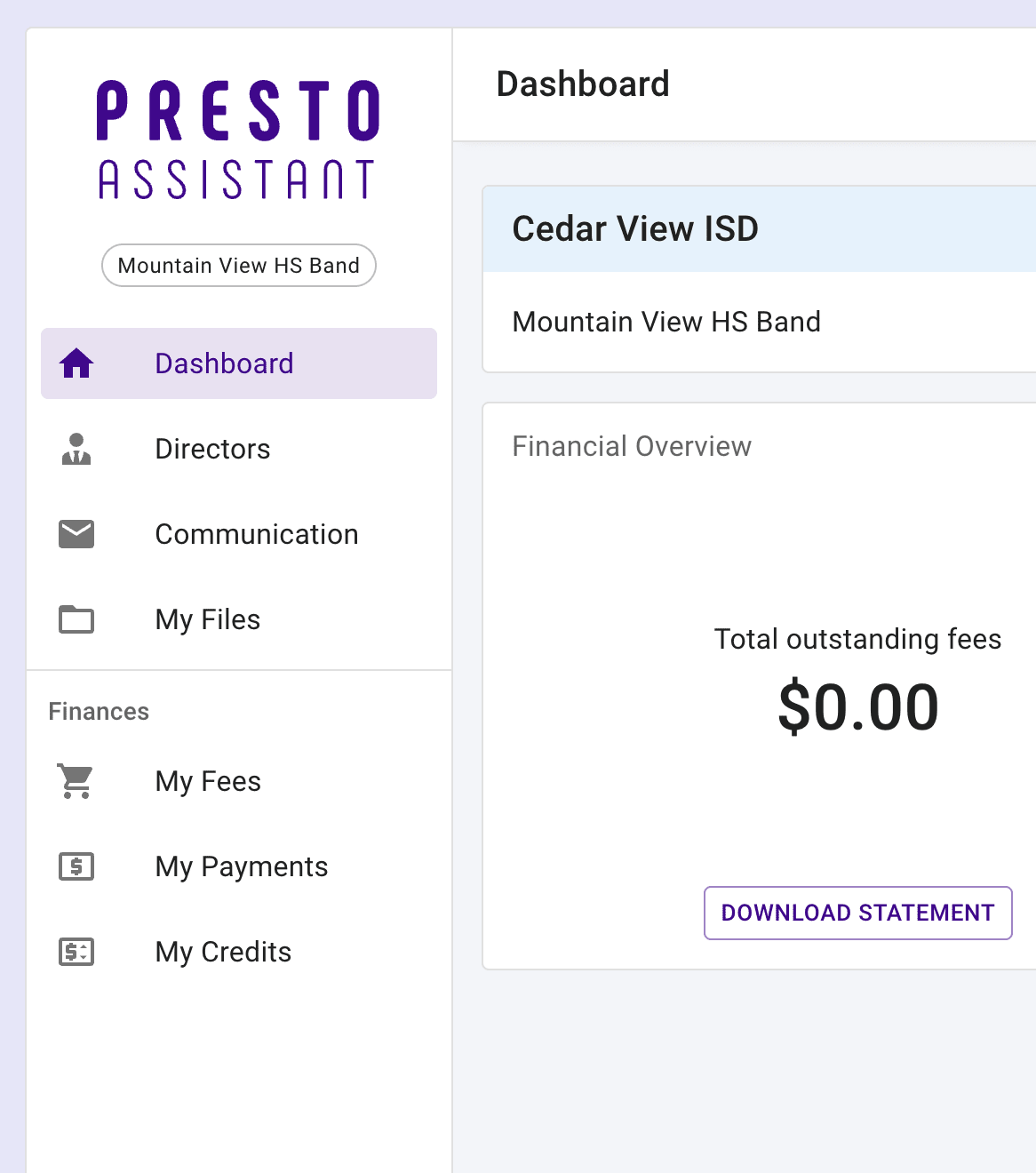 For example, if a parent has expanded permissions to edit financial payments, they will see a new navigation item in the sidebar called "Payments". This will allow them to view and edit payments for all students.
NOTE: Several permissions that implicitly require selecting a student will expand the parent's permissions to view basic student information. This will be limited to what is seen in the People Picker that pops up from the bottom of the screen in many places in Presto.
Next steps #
If you have updated the permissions for directors or parents, you should notify them of the changes!
Get in touch with support@presto-assistant.com with any questions you might have.